This past Fall, Arbor Homes once again partnered with Habitat for Humanity to provide housing for a deserving individual. We were so excited to be involved for the 5th year in a row, and so were our contractors! Giving back to the community is hugely important to our team here at Arbor, and this project was something we all enjoyed being a part of.
There are a lot of logistics to work out when it comes to home building. When the team here at Arbor was asked to take on the project they were excited because of the meaning behind this particular home. Many of the players on the Arbor team were taking on their first Habitat home, and were excited for the opportunity to give back in a way that they had never done before.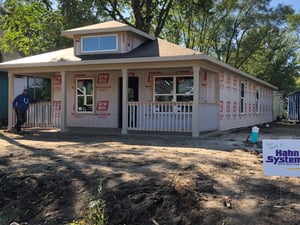 Habitat is a great partner when it comes to building. They worked with Arbor, volunteers from St. Luke's United Methodist Church, and many of the contractors that work with Arbor Homes to ensure the Habitat Standard was met, provided materials, manpower, and worked with Habitat to ensure the build met all requirements for homes in the area. Without the help and dedication of our contractors that gave their time and resources we could not have completed this project.
Habitat chooses the individual or family that receives a new home through an application process. Habitat provides a path for their future homeowners to learn about home ownership and serve the community in order to ensure they are successful in managing their mortgage and other expenses once they receive their new home. By having the land, materials, and services donated by groups or businesses like Arbor, the contractors and St. Luke's volunteers, Habitat is able to provide their families with the opportunity to live in a safe, comfortable home that isn't a financial burden for them.
Our contractors were a huge part of the success of this project. They donated their time and effort whenever they could because they believe in the Habitat mission. At times, such as with any project, steps did not go as planned and our contractors truly went out of their way to adjust their schedules to make time for the Habitat project. This build really strengthened the relationship between Arbor and our vendors, and we could not have done this without them!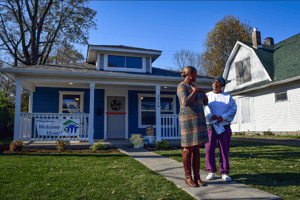 We are already looking forward to our next Habitat for Humanity build, and can't wait to get our team and contractors involved for a 6th year!
Thank you to our contractors and vendors for your donations!
| | | |
| --- | --- | --- |
| Lazer Excavation | DCO Roofing | Laminated Tops |
| Beaty Concrete | TSI Energy Solutions | Renfro Construction |
| R & R Plumbing | Midwest Drywall | Kermans Flooring |
| Probuild | Turnbough Construction | Trinity Lighting |
| American Windows | Gale Insulation | Green Touch Services |
| Airtron | Rainflow | Final Clean |
| K & D Wiring | Masco Cabinetry | Flying Colors |