The Norway is one of our most popular two-story plans! This home starts at five bedrooms and two and a half bathrooms, and has plenty of options to make the place fully your own. Read on to learn about the great kitchen/living space options, dedicated spaces for homework or working from home, and options to add bedrooms and square footage to either floor.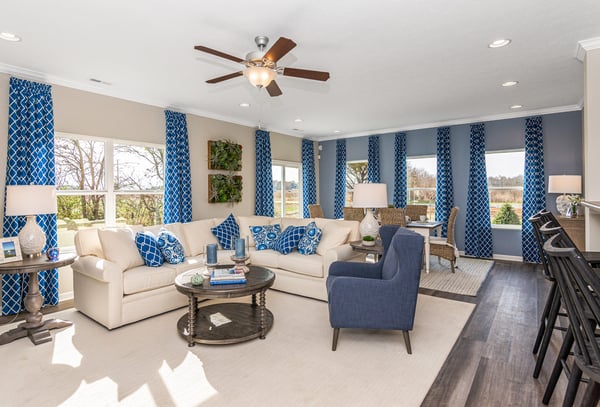 An Entertainer's Dream
This home's first floor is as open-concept as it gets. You can see every inch of the living room from anywhere in the kitchen, making it a great option for parents looking for a home that allows them to cook dinner and keep an eye on the kids at the same time. The kitchen also has a great bartop, perfect for displaying shareable dishes for a party or eating dinner when the dining room seems too far away. You can also choose to change up the kitchen layout and go with a larger island, making the room even more open and connected.
A Homework Station
Need a space for homework or a command center for your home? Add in a snack bar to catch all of the mail and provide that isolated space for homework time. With kids learning virtually and working from home becoming the new normal, these kinds of additions make it easy to add functional space to your home without encroaching on bedrooms and living spaces. And, the dining space at the front of the house also makes a great spot for an office! Great light from the front windows and easy access to the kitchen for a snack, what more could you need?
Space to Spare
None of our homes offer as much space as The Norway. All four upstairs bedrooms are a great size, and the primary suite includes an en-suite bathroom with plenty of options for customization. Two bowl sinks? You got it. Tiled shower? Another great option! Plus, the guest suite downstairs can act as a guest room, a play room, or an office if need be. If you are interested in adding more living space to the home, a sunroom can be placed on the back of the house, and there are options to extend the garage and living room if desired!
Between the space and the layout The Norway is a wonderful floorplan for anyone looking to build a brand new home. Contact us today to visit one of our Norway models!