The Empress Floorplan described in one word is this: Spacious! Starting at just over 3,200 square feet, you are sure to find room for all of your family or hobbies in this wonderful two-story plan.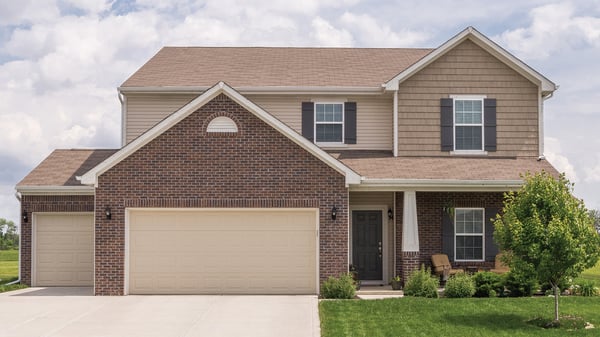 The First Floor: All the living space!
You'll find all the things you need to entertain, work from home, and have a family meal on the first floor. When you walk in the front door you are met by an enlarged foyer, perfect greeting guests and taking coats! To your left you'll see the living room, which can also be used as an office space or a workstation for your virtual learners! Next up is the dining room, great for formal dining, or this room could also function as a multi-purpose space to fit your specific needs. Then, as you step from the hallway to the great room, you are hit with a great open concept space with plenty of room for all kinds of activities! Watch tv, play games, enjoy breakfast, all things are possible in this space. And, you can either keep the kitchen tucked away, or upgrade to a kitchen island and further connect your spaces. No matter what you are looking for in a home, the first floor of the Empress will give you the space to accomplish it!
The Second Floor: Time to sleep!
The second floor is bedroom central. Starting at 5 bedrooms, you'll have space for family, guests, and still have room for hobbies or another office if necessary. The primary suite is a great size, with not one, but two closets, making getting ready in the morning with a partner that much easier! The ensuite bathroom can be configured to your liking, with various shower and bathtub options to make your bathroom of your dreams. Outside of the primary suite, you'll find large closets in every bedroom, a loft space for kids to hang out and store toys or electronics, and we have options to add another bathroom. The best part? Your laundry room is also upstairs, so no shuffling up and down with large loads of clothes every week!
Other great features: The mudroom.
One of the most family friendly features of this home is the large mudroom of the garage. This space is perfect for taking off dirty shoes, storing sports equipment, keeping backpacks organized, or even storing pet food and other accessories.
Starting in the 200s, you won't find a better home for a better value than The Empress. Take a virtual tour today, or contact us about how to build this plan in one of our great communities!