Spring has sprung! And we are here to make sure that you don't "spring" a leak during this traditionally rainy season. Water can cause serious damage to your home, and if not diverted from your property carefully the outcomes could be costly to fix. We are covering 5 great tips that will help you stay on top of your home's routine maintenance and get your family ready for beautiful weather, barbecues and summer vacation!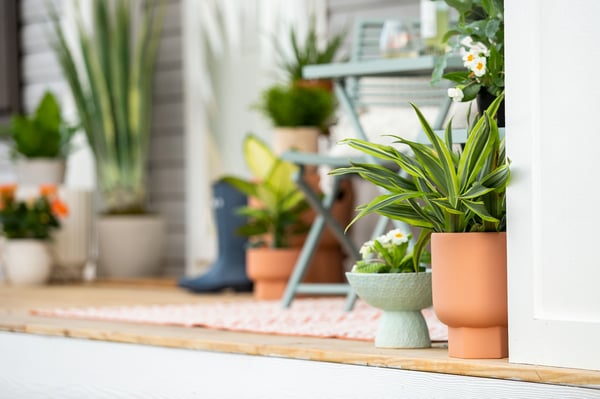 1. Clean your Gutters and Downspouts
If you have 15-30 minutes to spare, you have time to clean your gutters! Leaves and other debris can cause blockages in not only your gutters but your downspouts as well. Using a hose and some water pressure, you can easily push any blockages out of your downspout and keep your gutters clear for when the rain really comes! Not only will this keep your home exterior looking nice, but can even help you sell your home in the future.
2. Paint your Home Exterior
This one has so many benefits! Not only will painting your home's exterior increase the lifespan of your siding and help protect your home against the elements depending on the paint, it increase your curb appeal and your home value!
The best part about painting your home exterior? It doesn't have to cost you an arm and a leg! Shop around for a contractor with a good reputation and realistic prices, you'll be glad you did!
3. Take a Look at your Air Conditioner
You probably haven't used your AC to cool your home too much since last summer, so now is a great time to inspect it and make sure it is working properly! This can be especially important if you have a basement that needs proper air flow to keep the humidity levels from rising too high. If it makes any noises, doesn't put out cool air, or you notice any other issues, schedule a maintenance appointment with your local HVAC provider or warranty company so you won't have to endure a heat wave without your home as a cool reprieve!
4. Inspect your Concrete for Cracks
If your area saw a lot of ice or freezing temperatures over the winter months, chances are you may have a few small cracks in your driveway, patio, or pool deck. Look for even the smallest cracks to fill in, as those could give you trouble come next Spring if not dealt with. You can fill the cracks yourself with a filler or caulk and then seal them, or hire a professional to come and take care of it for you! Either way you are sure too keep your concrete looking nicer for longer!
All four of these actions can easily turn into larger projects, especially if you are in an older home that already has some wear and tear from Winters past. If you are looking to save time and money on maintenance and upkeep of your home, consider new construction with Arbor! Contact us today to learn more about how you can benefit from owning a brand new home.